Home | Gallery | History | Price Guide | Online Store
Vintage Fiesta Tom and Jerry Mug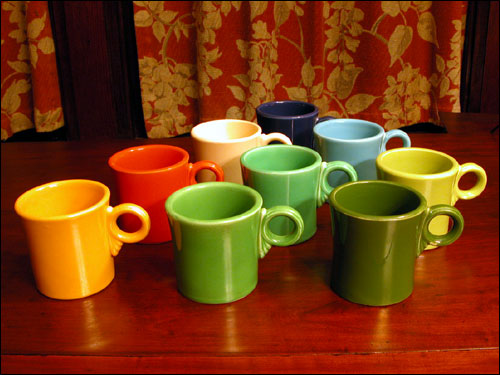 The Tom and Jerry was an alcoholic egg and milk drink, popular in the 1930s and 1940s. The drink was served warm from a large bowl in handled mugs. Homer Laughlin had already been producing this type of mug with a different handle. Using the ring handle from the general fiesta line, the Tom and Jerry mug was born. The distinctive ring handle is all you get for design on the piece (it is one of only two pieces that is without the legendary rings, the other is the dripcut syrup pitcher, which was also borrowed from elsewhere).
We use the Tom and Jerry mug for coffee and it's just the perfect size. Nice thick walls keep the coffee warm longer than contemporary cups and it's small size means no waste. These pieces were hand shaped with metal tools to achive their unusual concave shape. The wonderful hourglass shape couldn't be produced by a mold alone, so workers shaped them (thus explaining why some are more curvy and thinner than other mugs). Because of all the handwork there is much variation in the Fiesta pottery pieces. The foot was also shaped by hand so they couldn't be marked in the mold.
Dimensions
3 1/8" tall x 4 3/8" wide from edge of cup to farthest part of the ring handle
Marks
Often found unmarked, otherwise marked with the glaze stamp on the outside bottom "GENUINE fiesta HLCo USA"
Years of production
Circa 1936-1969: Made in all eleven of the original vintage colors. Red discontinued from the end of 1942 until reintroduced in 1959.
See current inventory: