Home | Gallery | History | Price Guide | Online Store
Vintage Fiesta Promotional Juice Pitcher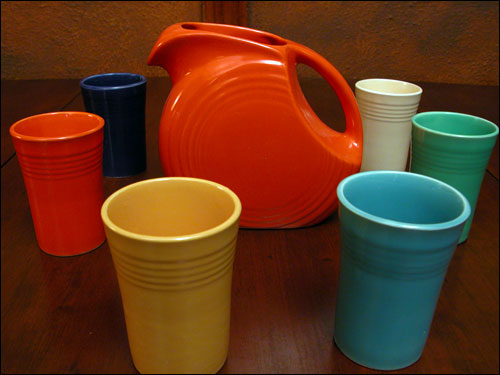 The 30 ounce juice pitcher is mostly found in original fiesta yellow and harlequin yellow (which is a brighter yellow). Other colors produced were Red, Celedon Green and Gray (which is the rarest of the bunch). The juice tumbler was the original design for the disc water pitcher, but was deemed to small, so it was shelved for a few years until the paintstaking creation of the fiesta juice tumblers was finalized. The little jug was ressurected and paired with the tumblers to form a seven piece juice set. The red juice pitcher was specifically designed for Old Reliable Coffee, a brand from the Dayton Mills Spice Company, as a premium. The juice pitcher would also be used again in 1948 and dipped in an unusual color that collectors call Celadon Green, and then once again in 1951 in gray for Woolworth's "Rhythm" ensemble. Collectors refer to this gray as "mist gray", although it is the same 1950s fiesta gray glaze we are all familar with. The gray pitcher is pretty rare and commands a high price.
The contemporary juice pitchers will usually have a raised letter "H" on the bottom. The re-released versions were so similar to the originals that it can get very tricky to tell the two apart. The bottom should be marked as shown in the red above. There was a short time after HLCo. began reissuing post 1986 fiestaa before they started adding the raised letter "H" to distinguish the old from the new. So a lack of an "H" isn't 100% proof it's vintage.
One other feature to look at when trying to determine a pitchers age is the inside body where the handle meets the pot. In the vintage pitchers this area is completely flat (as is the example above), but the new post 86 pitchers have a small dimple like indentation at the handle/body juncture. This physical feature is really the one truely 100% accurate way to determine the old from the new.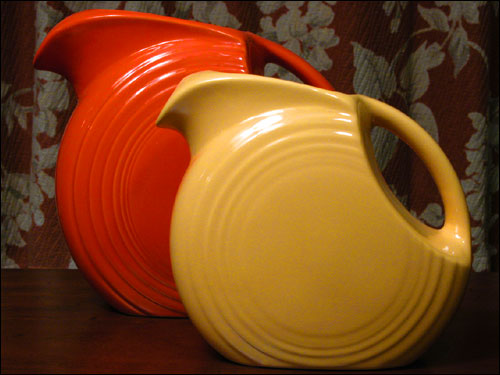 The juice pitcher at 6" high doesn't sound as if it would be significantly different than its 7" counterpart- the water pitcher, but it's suprising how different in size these two pieces are .
Dimensions
Measures 5 1/2" tall from base to uppermost top and 6 1/2" at its widest point from tip of spout to back of handle.
Marks
Marked in the mold on the outside bottom with the Homer Laughlin logo followed by "fiesta MADE IN U.S.A."
Years of production
Circa 1940-1942: Red, yellow and harlequin yellow. | Circa 1948: Celadon Green pitcher marketed with two tumblers of three colors, shell pink, mist gray, and cream beige (hard to find). | Circa 1951-1952: Gray pitcher with two tumblers of the three colors forest green, chartreuse and Harlequin yellow. (extremely rare set)
See current inventory: