Home | Gallery | History | Price Guide | Online Store
Vintage Fiesta Teacup and Saucer Set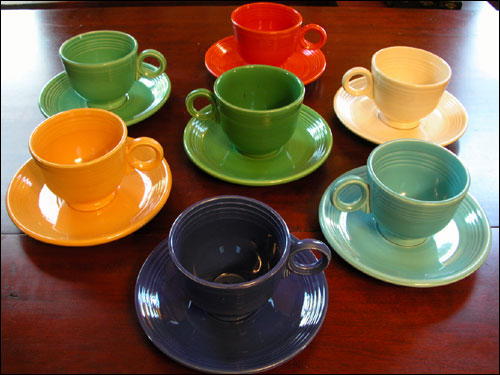 The earliest cups (1 year production) have flat inner bottoms because the flared foot was actually attached to the cup body by hand. Their matching saucers will have 5 rings around the base. The next stage of cups are smooth on the bottom, but still have rings on the inside, finally the inside rings disappeared and eventually the ringed cuphandle was restyled in the 1960s to be much simpler and take much less hand work to produce.
Notice the flat bottoms on all but the medium green (top left)?
Dimensions
Cups measure 3 1/2" wide acoss the top rim (not including the ring handle) x 2 13/16" tall. Saucers measure 6" wide and 3/4" tall.
Marks
The teacups themselves are unmarked, while the saucers will almost always be marked with the glaze stamp "GENUINE fiesta HLCo USA"
Years of production
Circa 1936-1959: Made in all eleven of the original vintage colors. Hard to find Medium Green with the inside rings. Flat bottom cups hard to find.
See current inventory: