Home | Gallery | History | Price Guide | Online Store
Vintage Fiesta Water Tumblers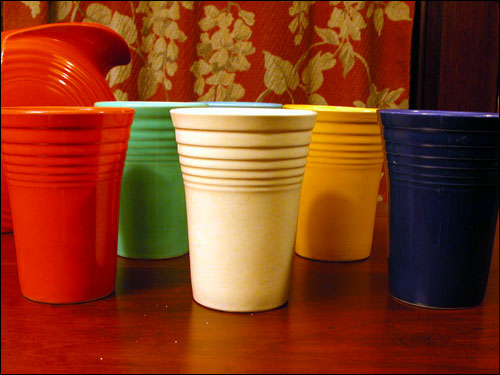 It seems hard to believe that the water tumblers would be added in March of 1937 (a little over a year since the beginning of the fiestaware production), but the disc water pitcher would not be added for over another year (until July of 1938). Today's collectors think of the water tumblers going with the disc water pitcher, but it was the ice lip pitcher and the 2 pint jug that existed at the time of the water tumblers release. So the happy marriage between the water tumbler and disc water pitcher happened later. The cup would have been produced by a one piece mold, but the outside rings would have been tooled onto each cup by hand at the jiggering machine.
Dimensions
Water tumblers measure 4 1/2" tall by 3 1/2" tall across the top and 2 1/4" across the bottom.
Marks
Marked in the mold with the impressed "fiesta HLC USA" or "fiesta MADE IN USA".
Years of production
Circa 1937-1946: Made in the first six original colors only. Red discontinued by the end of 1942.
See current inventory: